(Work in progress 😅) Goalswin - Set your goals and track your habits
This is embarrassing ...
I thought I would finish my app on time, I was wrong 😅.
In fact, 3 weeks ago, I stumbled across the hackathon announcement and decided to give it a go.
I collected some design ideas, shared my mocks on Twitter, and optimistically started developing...
Despite not finishing the app, I would like to share with you some learnings while you can find the code here.
But what to build?
After prolonged reflection, I settled on a goals tracker app. I know... there is a lot of them, so why another one?
I would say for 4 reasons :
I always feel behind when I use the current solutions: there is always something to do and I don't see my progress

I can't see the high picture with the current apps: I can track goals, I can track habits, but I don't see the link

I want an app that combines Pomodoro + goals tracker + actions/habits tracker

I want to own my data completely
The first step: Design
I love designing UIs. I am not that skilled, but I love it.
As a result, I spent ~20h on Adobe XD making the app mocks 🤦🏾‍♀️. I collected inspirations on Dribble, picked a color (red for energy), a font - "Karla", etc...
You can find some of the results below. Let me know what you think ;)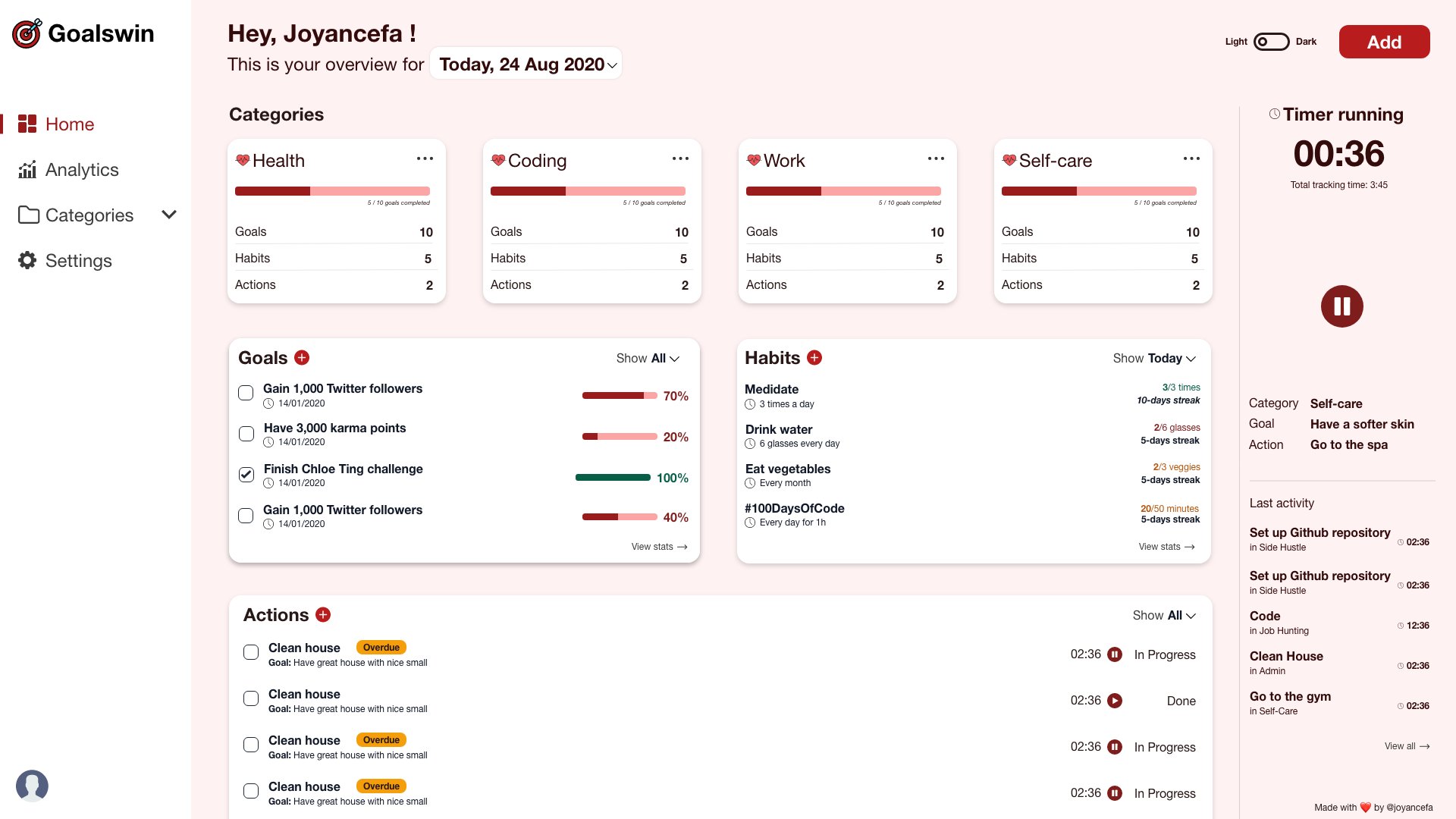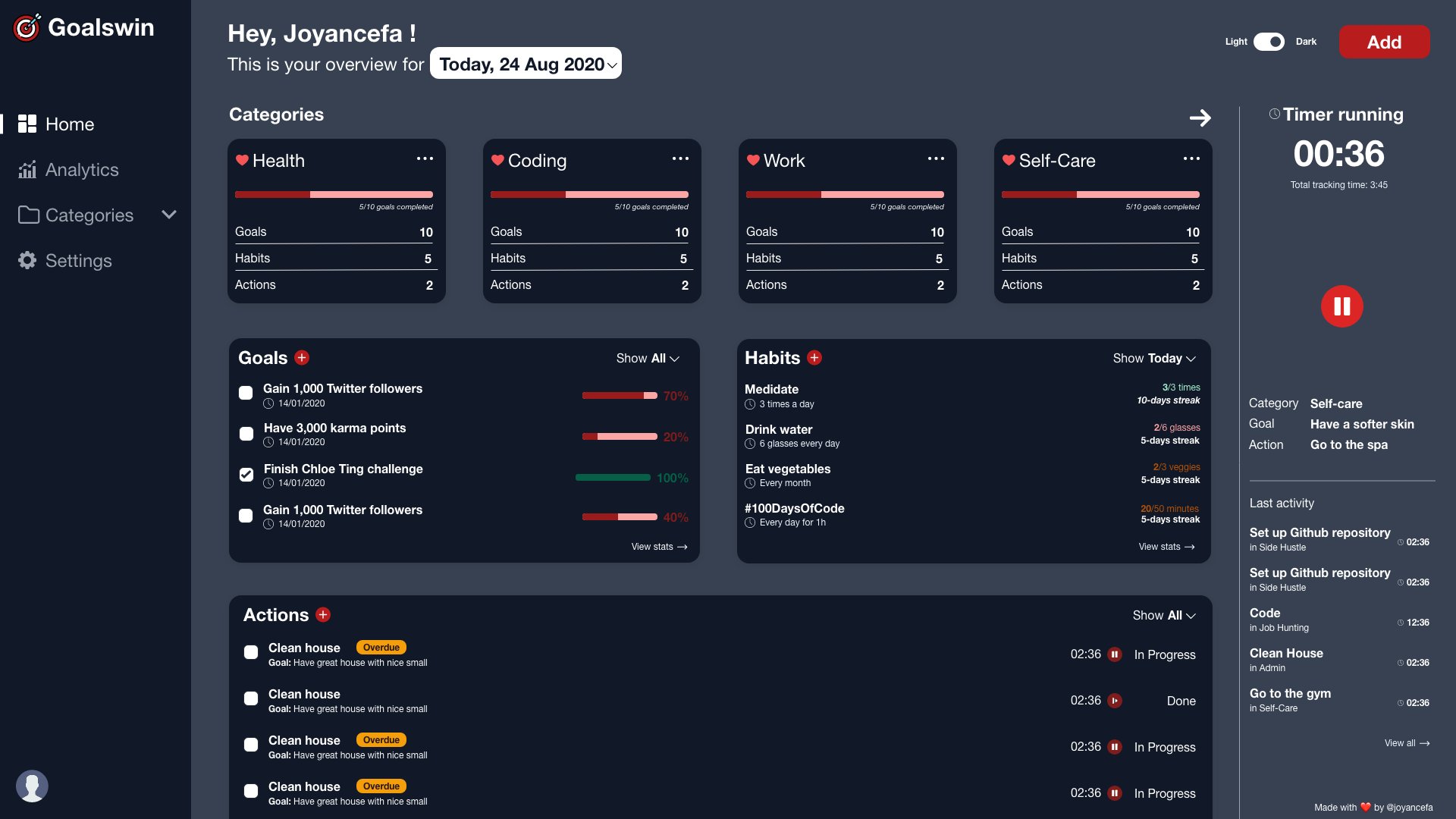 Second Step: Pick a stack
Along with UI design, I love learning new things. So for the challenge, I decided to go for the following tech stack:
Typescript + Eslint
Formik => for forms validations + creation
Chakra => for React components
Prisma => for handling databases
NextAuth => for authentication
and React-Select for input selects
Third Step: The development + challenges
I wouldn't want to use a slow web app. So, perf was a priority for me. Because of that, and early optimizations, I stumbled upon a series of issues :
1. Preact != React
Symptoms
My code would work locally but not in production. I tried many things but couldn't find the culprit.
Problem
I was using Preact in production (because it can trim >20kb of JS) and React in dev mode. What I didn't know was that Preact doesn't work well with some Chakra UI components or NextAuth.
2. Responsiveness and server-side rendering
Problem:
Media queries don't work on the server. As a result, I was shipping some useless code for mobiles.
Solution
3. Picking a database
Dilemna
I hesitated a lot between Firebase, Prisma, and Faunadb and listed the following pros and cons :
Pros: I already used it, it handles authorization well + It is free + I don't need a BE
Cons: The billing is not clear + I will learn nothing new 🙈
Pros: It looks really efficient + It handles authorization well + It has a free tier + I learn something new
Cons: The billing is not clear too + I couldn't use multi authentication in the free tier
Pros: It integrates well with Next.js + very friendly documentation + I can use it with NextAuth + I learn something new
Cons: I need to set up my own DB + I need to handle the authorization
Resolution
I ended up choosing Prisma and I set up a Postgres instance with AWS :).
4. Performance
Problem
I would either :
render too many components on the server,
or use dynamic imports aggressively (which creates too many chunks)
or not use dynamic imports enough and have big chunks sizes
Resolution This is still in progress. But, by using a combination of console coverage + Lighthouse, I was able to identify some culprits.
4. Encrypt user data (still searching)
I want to have end-to-end encryption for the user but all the solutions I could find ( Virgil Security, Seald) were expensive.
At this point, I hesitate between using IndexDB (and store the data on the user desktop/phone) or use encryption on Node.js.
5. NextAuth not working in production Vercel (still looking for a fix😥)
What is next?
I am super excited about this app and I will be actively building it. If you are interested or have any idea, ping me on Twitter 💪🏾❤️
Thanks #Hashnode + #Vercel for organizing this great competition.
App => goalswin.vercel.app
Github => goalswin.vercel.app
Twitter => twitter.com/joyancefa